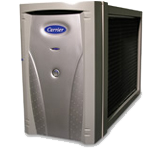 Air cleaners effectively remove bacteria, pollen, animal dander and other pollutants as small as 0.01 microns. That's 18,000 times smaller than the head of a pin. The higher the Minimum Efficiency Reporting Value (MERV), the more efficiently the cleaner removes particles. We offer air cleaners that range from MERV 10 to MERV 15 to meet your needs. For those families that have severe allergies, we also offer Whole House High Efficiency Particulate Arresting (HEPA) filtration systems.
Air Purification Product Offering
Respicaire-Whole Home Engineered Air Cleaners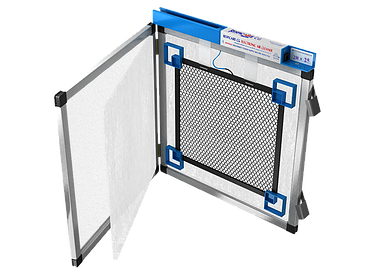 MicroClean 95™ Patented Whole Home CG Hybrid Air Cleaner
View Brochure
Model Family: 3RCG-BE
Filter efficiency: particles as small as 0.3 microns.
Germicidal rate: Up to 95%
Warranty: 5 Year Warranty
Manufacturer's Stated Benefits:
Polarized Media - Non Ozonating Safe, efficient natural technology
Versatile design Only 1
Wide Variety of Sizes Available Standard, Custom, Oversized, Geothermal units
Low Static 1/3 of static of the most popular retail filters!!!
Low Voltage Electronics Green Energy usage
Simple Maintenance Replace internal media pads quarterly
Tested & Verified Ashrae 52.2 independent test reports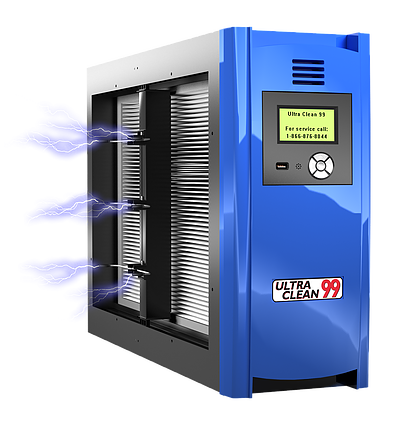 UltraClean 99™ Whole Home Mini-Pleat Hepa Air Cleaner
View Brochure
Model Family: 7RUC-BE
Filter efficiency: Up to 99% efficiency
Germicidal rate: Merv 15 and Up
Warranty:
Manufacturer's Stated Benefits:
Patented Dual Air Cleaning Processes Up to 99% efficient with collection down to 0.01 micron
Slim & Versatile Design Only 7in deep for Left, Right, Horizontal & Vertical Installation
Charged HEPA Technology Most efficient in-line filtration
Low Static Maintains Energy & Equipment efficiency
Low Voltage Electronics Safe and effective electrical processes
Only 13 Watts of Power Green energy usage!!!
Programmable LCD Audible & Visual annual service notification
High Temperature Option Ideal for Attic applications (up to 220*F)
Independently Tested & Verified Merv 15 minimum , Ashrae 52.2 performance
Maintenance is easy. Simply replace the unique High Performance Cartridge once per year.