Respicaire OXY 4 Air Purifiers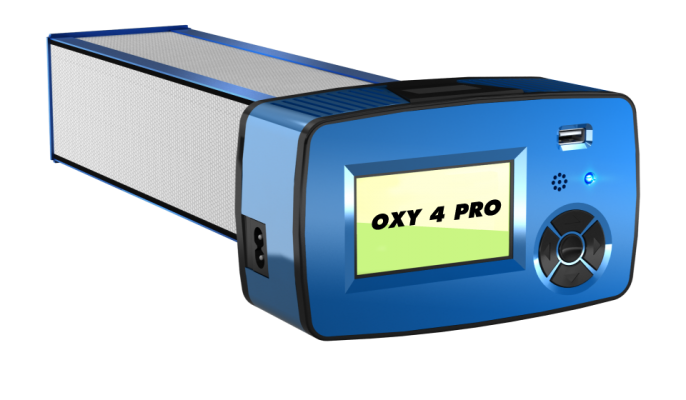 The OXY 4 ® is an Advanced Active Ionic Oxidation Air Purifier that uses Ultra Violet light & catalytic reactions to create ionically charged airborne oxidizers. These highly effective oxidative air cleansers freely circulate throughout your home to help reduce and eliminate molds, virus, bacteria, microbes, odors and chemical VOC's (Volatile organic compounds). This means that airborne microbial including unwanted odors and chemical gases are unable to escape the oxidative cleansing action of the OXY 4 ®. It is particularly helpful for indoor environments that experience higher levels of humidity.
The OXY 4 ® Air Purifier features the industry's most advanced compact system with the highest TiO2 Surface Area to enhance the Catalytic reactive process. It unequalled* surface area means enhanced air cleansing and excellent performance value. Our proprietary Catalytic Chamber creates multiple active ionic air cleansers as internal UVC wavelengths react with the Titanium Dioxide (Ti02) treated surfaces. This catalytic reaction emits the natural oxidative cleansers to help sanitize & purify your indoor air. It is an outstanding design that optimizes air cleansing technology in a small & serviceable package
In addition, each unit features our "smart light" photocell technology that visually confirms lamp & system operation. High Temperature versions are available for hot ambient conditions with the ability to tandem for larger installations or product options. The OXY 4 ® offers our exclusive programmable LCD Display that monitors day to day operation and automatically notifies you when annual maintenance for UV lamp is required.
Key Features & Benefits
Enhanced Purification for Your Indoor Air - Effective against Airborne Microbials, VOC's, Chemicals
Helps with Allergy, Asthma, Respiratory Issues - Kills, Sterilizes, Oxidizes & Cleanses
Highest Catalytic Surface Area versus competitive designs - Doubles ionic output for optimum performance
Four Unique Processes, Nasa Technology - Unique Advanced ionic air cleansers
Dual Catalytic Quartz Lamps - Enhanced coverage & field adjustable
"Smart" Light Photo Cell - Confirms lamp operation visually
Micro-Processor with LCD Display - Monitors operation & communicates annual service visually and audibly
High Temp model option - Ideal for Attic applications or high ambient (up to 220*F)
Tandem connections - Interconnection for extra power or larger systems
Easy lamp access - Snap in & snap out - quick, convenient replacement
Downloads